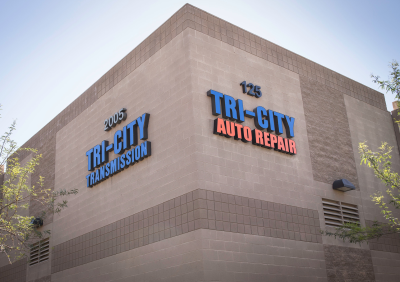 Tri-City Transmission Service, Inc. is a family-owned automotive business that specializes in service, repair, and replacement of automotive transmissions. In 2014, the business expanded with the new division, Tri-City Auto Repair.
Tri-CIty Transmission and Its Beginning:
Mike Young and Leon Bouchy opened Tri-City Transmission in Tempe, Arizona in 1972.
From the beginning they developed a solid reputation of customer service and integrity.
How Dave Riccio got Involved:
Fast forward 33 years later to the year 2005. At age 28, Dave Riccio's life was going well. He was happily married and had a newborn son who was the apple of his eye. He also had a fulfilling career in the industrial heating, ventilation, and air conditioning (HVAC) industry. But one day, life as he knew it changed forever.
It started out as any other day; he kissed his family and hopped into his car to go to work. But when he went to start the car, he couldn't do it…he couldn't control his hand enough to get the key in the ignition, and he had a really bad headache. Dave thought he had a migraine so he went back inside and went to bed.
When he didn't get better after several days, Dave decided to go to the hospital. The early diagnosis was a tumor, a stroke, or Multiple Sclerosis (MS). It took weeks of testing before the diagnosis was confirmed. Dave Riccio had MS.
MS is a disease of the central nervous system. It's generally an "invisible" disease meaning that you can't tell from the outside whether someone has it or not.
Symptoms of MS include numbness of hands and feet, blurred vision, stiff legs, short-term memory loss, dizziness, fatigue, chronic pain, incontinence, loss of mobility, and speech impediment to list a few. As the disease progresses, the individual may lose the ability to function in many other ways. MS is not curable or preventable, however treatments are available to reduce severity and delay progression.
Dave's initial MS episode left him physically unable to drive for three months and it was during that recuperation that his life took on a whole new meaning. Suddenly, it became Dave's mission to provide for his family in the event of ongoing relapses of MS. He felt that owning his own business would be the best way to do that.
It was then that Dave remembered his clients Mike and Leon at Tri-City Transmission to whom he had sold HVAC equipment. They looked as if they were close to retirement age. Dave thought since he had previous experience in the automotive industry (in an earlier job, Dave worked as an automotive technician where he quickly graduated to the store manager) he would do well in the transmission business. He asked Mike and Leon if they would sell him their business.
Long story short, after a year of negotiations, they did. And so, November 1st, 2006, after having been diagnosed with MS only 14 months earlier, Dave Riccio became the owner of Tri-City Transmission.
When Dave took over the business, he thought he had been prepared. He had gone through the books with a fine-tooth comb; he had spent time "undercover" at the shop, discovering how things ran when the owners weren't around. He knew there were going to be challenges and he felt he could handle them. However, nothing could have prepared him for what happened in the next 18 months.
Dave says, "I had taken out an SBA loan to buy the business and I knew when I purchased it the business was barely breaking even. I had to do something quick to be able to make the payments on the loan." However, when a new guy comes in full of energy and whose life belongs to the bank, things change. Within just a few months 80 percent of the employees quit and went to work for competitors, who would then go after Tri-City Transmission's long-term referral sources.
On top of that, within a year the economy turned south. Dave says, "I had a new loan to pay, my referral sources deteriorated, and my employees quit…not exactly a good way to start a business venture."
Eighteen months into owning the new business, Dave had another MS relapse. The pain was unbearable. Dave said, "The business couldn't run itself." So he dragged himself into work every day, with an IV in his arm to receive Solu-Medrol treatments by a nurse who would come to the shop.
He says, "I worked 90 hours a week, doing everything I could to build the business." That included personally visiting every referral source to mend and build new relationships. He did all of this, while at the same time receiving IV treatments for his MS.
When Dave purchased the business, it was just breaking even. In spite of all of the challenges, Dave managed to grow the business to profitability, averaging 10 percent growth per year for the first five years.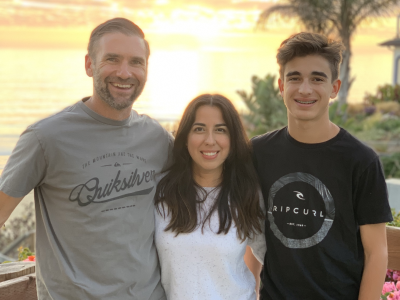 "In hindsight, opening a new business with a new disease was probably not the best of ideas. Stubborn grit and fear of failure kept me going. I felt I already had lost a bunch of my identity with the MS diagnosis and I wasn't about to lose the rest of it running a longstanding business into the ground. When you're young, you don't know shit, but you do have a ton of energy and ambition. When you're old, you know a lot of shit, but no longer have energy. In my mid-life my ideals have changed. Business is about growing and serving people. I wouldn't be who I am today without the struggle. Even if it was a bad decision -- which it really wasn't -- our scars make us who we are" says Dave.
Today Tri-City Transmission and Auto Repair is an industry leader with its customer centric focus. Tri-City Transmission has been featured in several industry trade publications as the bar setter. Dave has spoken nationally for trade organizations like the Automatic Transmission Rebuilders Association (ATRA) and co-created and co-hosted Bumper to Bumper Radio with Matt Allen of Virginia Auto Service. Bumper to Bumper Radio is recognized as Arizona's number one car talk show.
Dave knows MS is always looming in the background, but has been able to manage it with the newer treatments, riding his bikes thousands of miles every year, lots of yoga and meditation.
---
Related Links
The History of Tri-City Transmission
 
Tri-City Auto Repair
 
Leon Bouchy
---